Mountain Grove Church Family Ministries
Family Ministries at Mountain Grove are designed to minister to the entire family. Whether it be the infants in the Tiny Town Nursery or the Senior Adults, there is a place for everyone. Each ministry is equipped to lead a person through each stage of life, into a closer relationship with Jesus Christ. Check out all the exciting family ministries available at Mountain Grove Church.
---
Tiny Town Nursery & Preschool Parkway
Tiny Town Nursery & Preschool Parkway is the place to go for your children below Kindergarten age. Tiny Town is for babies 0-2 years of age & Preschool Parkway is for children ages 2 – Kindergarten
---
Upstreet Kids
UpStreet is our kindergarten through 5th grade kid's event! The whole event is based on the scripture, Luke 2:52 "And Jesus grew in wisdom, stature and in favor with God and men."
---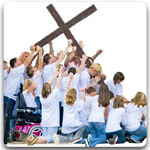 ViaCross Youth
Our mission is to lead youth into a growing relationship with Jesus Christ by combining the teaching of God's Word with creative environments where students prioritize their relationship with Christ, influence their friends, and experience personal ministry.
---
Marriage Ministry
The purpose of the Mountain Grove Marriage Ministry is to assist couples to create a God-honoring marriage which thrives on commitment, intimacy and growth. We believe that the unchallenged acceptance of divorce has infected our world with hopelessness.
---
Senior Adults Ministry
This is the place for senior adults to continue to experience varied and quality activities which are aimed at fellowship, community, and encouragement.
---